An ace photographer capturing Bollywood celebrity weddings
~ by Joseph Radhik
PUBLISH DATE: Sept. 2, 2020
A wedding marks the culmination of two lives. They are one of life's greatest milestones. A good camera isn't one that just makes great images, but also makes the process of making those images enjoyable for the photographer. Surrounded by all the festivities, a wedding photographer needs to navigate through the chaos for that split second moment. To ensure that he has the right partner by his side on this journey Joseph Radhik, ace wedding photographer, prefers the Sony Alpha 9 II camera. Today, he opens up about his favourite camera and why he loves using it.
An illustrious name in the wedding photography industry, Joseph has covered the weddings of popular Bollywood celebrities like Anushka Sharma-Virat Kholi, Priyanka Chopra-Nick Jonas, and even some of the biggest Indian families in recent history including both the Ambani weddings.
Among Joseph Radhik's work, two of his favourite photos include these iconic moments from Virat Kohli and Anushka Sharma's wedding, and Priyanka Chopra and Nick Jonas's wedding - both photos captured with the original Alpha 9 in 2017 and 2018.
Having covered several celebrity weddings, Joseph has learnt many tricks in his decade long career. Today, he takes us through his experience with the Sony Alpha 9 II.
Features that Excite
Back in 2019, the launch of Sony Alpha 9 II grabbed the attention of Joseph Radhik. Recalling his time with the original Sony Alpha 9 camera, he shared how he could not wait to get his hands on the new Sony Alpha 9 II camera. The latest product was upgraded with features such as a USB-C port, a larger View Finder, a deep grip, a new joystick, a completely new mechanical shutter, an amazing dynamic range, and super low noise thanks to the brilliant Sony sensor.
Joseph Radhik's views on Sony Alpha 9 II
Joseph used the Sony Alpha 9 II extensively at Indian weddings, and this is what he had to say about its features:
"Many brands pay huge attention to resolution. However, Sony has diligently worked on features like AutoFocus, Burst Rate, Buffer, response, sensitivity, dynamic range, and silent operation. All these features usually do not make headlines, yet are crucial for professional photographers." Talking about the features he loved, he added, "24 megapixels is plenty for me. As long as those 24 megapixels are noise-free, rich in dynamic range, and almost always focused exactly where I want them to be. The Sony Alpha 9 II gave me all of that and much more with its completely silent, distortion-free shutter. Moreover, its 693 AutoFocus points gave me complete creative freedom to compose my frame. Also, the amazing buffer lets me shoot up to 20fps without breaking a sweat."
Joseph Radhik lists five features which make the Sony A9 II camera unique and best in class.
1. The amazing new mechanical shutter PLUS the same magical electronic shutter.
The Sony Alpha 9 II retains the same electronic shutter of the previous Alpha 9, yet it has taken the phenomenal 10 fps mechanical shutter from the Alpha 7R III, Alpha 7R IV and Alpha 7 III cameras. Here is an image that illustrates how useful this shutter can be. In this low light environment, lit only by the rapidly moving fire torches held by the dancers, the Sony Alpha 9 II not only focused right but also worked with the off-camera flash to get this split-second moment between all the chaos!
2. Image stabilization reaching ludicrous levels.
While the IBIS (In-Built Image Stabilization) of Sony mirrorless cameras has always been a class-defining feature, the Sony Alpha 9 II has taken it up a notch. He illustrated this feature with two examples:
In the first image, he was able to hand hold a shutter speed of 1/3 seconds to create a dramatic effect with the fire dancers without losing sharpness in the background.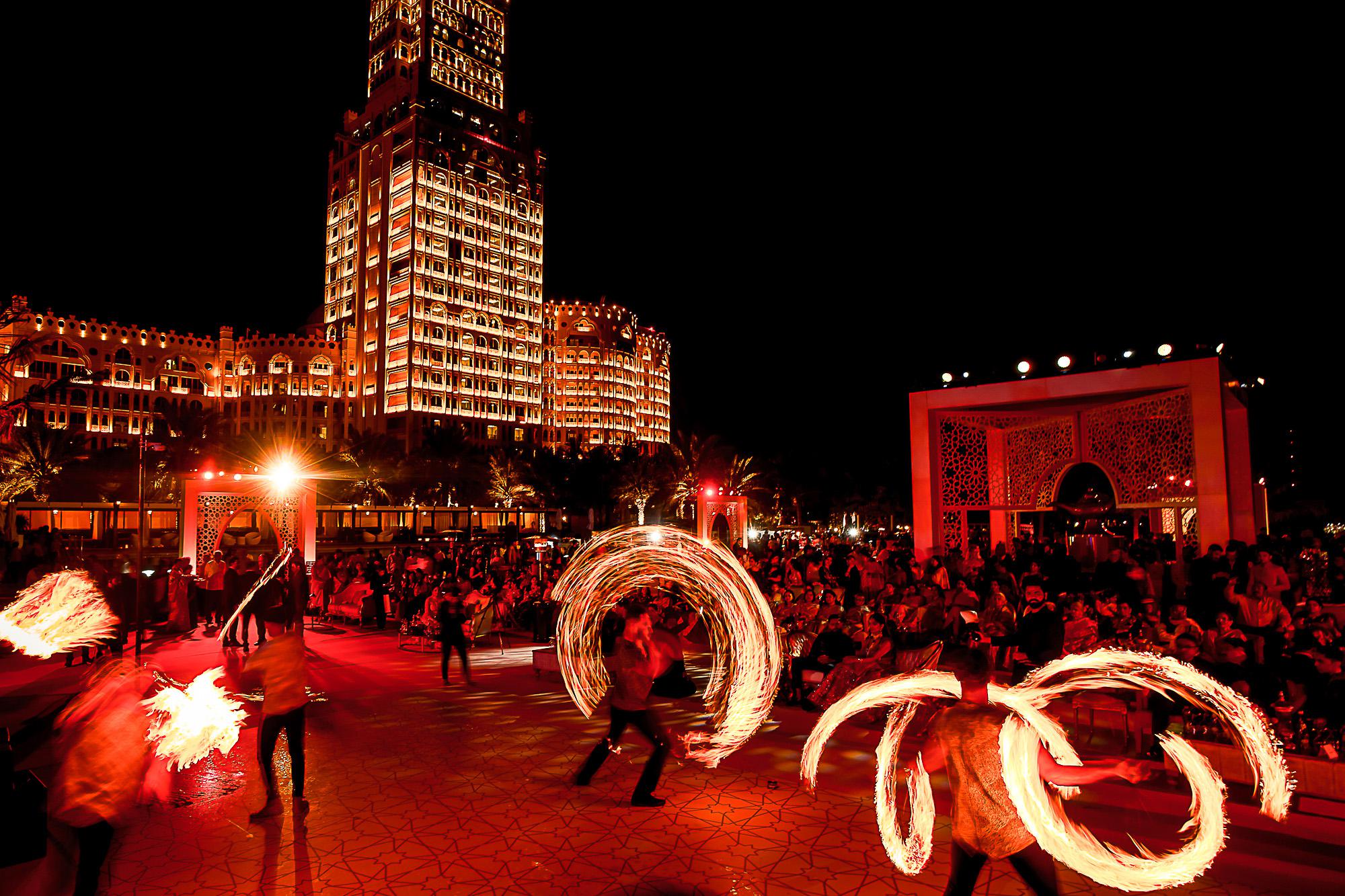 While the second image does not look that drastic - it is "only" a 1/8 second shutter speed - in the middle of a busy street in Jaisalmer where he had asked the couple to stand still for a full 30 seconds while he tried to nail this shot. It truly shows how love can stop time!
3. Eye AF and AF area.
Joseph reveals "I will be the first one to admit that I barely use all the myriad autofocus features the Alpha 9 II comes with. But the ones I use a lot, are game-changers. The ability for me to reduce my AF pointer to a tiny dot and move it anywhere across the frame can lead to some completely unexpected compositions. Like these two here - both involving swings and photographed 2 months apart!
In the first image, he has kept the pointer on the groom's face and let them swing as close as possible to his frame. Despite this rapidly moving subject, the camera never skipped a beat while capturing this shot. The lens used here is the 24mm G Master wide open at f/1.4.
In this image, he kept the AF pointer on the bride's face and asked them to swing past him. As you can see, this frame is sharp edge-to-edge even at f/1.4 - the 24mm G Master shines again!
4. Low noise and dynamic range.
Joseph says: "In the photography world, you tend to hear these two terms (low noise and dynamic range) being thrown around like buzzwords every time a camera is mentioned. But, in the case of the Sony Alpha 9 II it's nothing like that. These two features have enhanced my shooting experience.
Be it shooting straight into the sunset and retaining colour, texture, and detail in the shadows like in this image...
or shooting under a starry sky with all sorts of highlights and shadows in the frame. By the way, yes, that camel stayed still for the entire exposure!"
5. Large, bright ViewFinder.
And finally, this tiny feature which we all tend to overlook while using a camera. The large viewfinder in the Sony Alpha 9 II is an absolute delight to use and one that Joseph says you will miss when you shift to any other camera on the market. He uses two images to show how this viewfinder can be helpful.
The first one was taken with him wedged between a table and a wall as he got the right composition of the overhead lighting fixture; here the large and bright viewfinder with its grid helped him compose this unique portrait.
And this moment, which he photographed during the baraat. Joseph recalls, "While I was running back to compose a frame, I saw this band-waala creating this perfect frame. But it was a bright sunny afternoon in Goa, and no display would be visible in this light. With the Sony Alpha 9 II, all I had to do was jog the joystick to move my AF point, stick my camera close to the trumpet, and compose the frame using the viewfinder."
Built with such amazing features, the Sony Alpha 9 II is indeed an Alpha amongst cameras. Joseph sums up his opinion of the Alpha 9 II, "Although the Sony Alpha 7 range has caught up with the greatness of the Alpha 9, these five reasons are enough for the Sony Alpha 9 II to be considered the ultimate camera for wedding photography. This is one of those cameras which will challenge you to reach its limit and you will eventually realise that your imagination is the only limit."
To stay up to date with Joseph's work, follow him on - www.instagram.com/josephradhik
About Joseph Radhik
Joseph Radhik is a wedding photographer whose work focuses on the beauty and emotion in every celebration. He has been chosen by international celebrities and lovers of art to immortalize their wedding days. This self-taught photographer's im... Read more