Sony Full-frame Mirrorless Camera
One can simply do more
Dramatically evolved AF performance
4D FOCUS: Stunning
wide coverage
Capture your subject anywhere in the frame. 4D FOCUS activates AF points across a wide area, so the camera can detect subjects throughout the entire frame, instead of just the centre.
4D FOCUS: Fast AF
speed
Combining focal-plane phase-detection AF for excellent speed and tracking, plus high-precision contrast-detection AF, Sony's sophisticated Fast Hybrid AF can capture fast-moving objects in razor-sharp images. 4D FOCUS instantly detects the distance to your subject and focuses quickly and accurately with advanced AF algorithm, so you never miss decisive moments.
4D FOCUS: Steadfast
tracking
Never lose sight of your subject. Our AF algorithm stays focused on the action, and even predicts your subject's next move, without getting distracted by any obstacles in the frame. With faster image sensor readout, even complex subject motion can be tracked and sudden movements can be predicted with great precision, allowing you to capture decisive moments.
Eye AF revolutionises portraiture
Eye AF can now be used with AF-C mode, for fast, effective eye detection/ tracking performance when shooting stills. The easy maintenance of optimum focus on moving subjects can totally transform your portraiture..
Partially hidden face
Looking down
In dim light
Walking toward
Through glass
Capture the previously uncatchable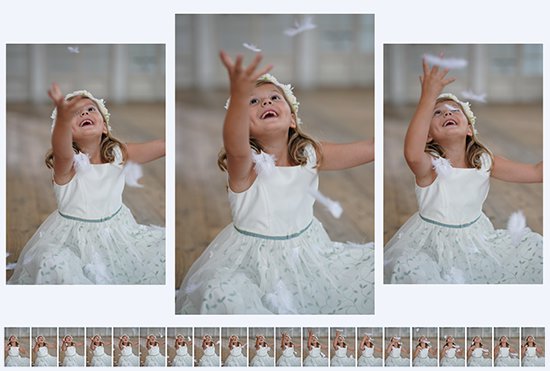 High-speed continuous shooting at up to 20fps
The groundbreaking full-frame Exmor® RS CMOS sensor and the BIONZ X processor team up for 20fps continuous shooting with AF/AE tracking. Stunning, high-speed performance and ample buffer lets you capture the decisive moment.
Non-mechanical electronic shutter eliminates blackout with typical SLR mirror action. An uninterrupted view of the subject is available even during shutter release, with live-view capability and minimal display lag in continuous shooting. (A) Blackout-free shooting (B) Shooting with blackout
Track the action with an uninterrupted view
AF/AE calculations up to 60 times/second
Light directly reaches the image sensor without mechanical interruption. An ingenious fusion of mirrorless construction and new speed-enhancing technologies provides AF/AE at full-frame focal plane. (1) AF/AE calculations (2) 60 times/second (3) 20 frames/second
Electronic shutter speeds up to 1/32000 seconds
Electronic shutter speeds up to 1/32000 seconds far surpass mechanical shutters for a new imaging expression. You can also maintain shallow depth of field without an ND filter, even under bright conditions. (A mode 1/20000 seconds. F8.0 ISO 1000)
Silence expands photographic potential
No noise distraction
An anti-distortion electronic shutter allows silent shooting without mechanical mirror and shutter noise. It's ideal for sports and subjects that demand quiet operation, greatly expanding camera versatility
No unwanted vibration
During SLR shooting, mirror shock and shutter release shock cause subtle vibration. However, a vibration-free electronic shutter that can keep the camera stable, for razor-sharp images.
"High Resolution Camera" without mirror guarantee sharp images by avoiding Mirror Shock, Shutter Shock and Camera Shake. The image processing system has evolved to deliver high resolution and low noise throughout a wider ISO range. The camera depicts the mood of every scene's surroundings as well as the texture of details.
Enhanced eye AF and resolution
Make a huge print, or display all the intricate details of an image on a high resolution TV / monitor or on the web. With 4K TV screens and monitors already hitting mainstream and with 8K devices on the horizon, we can see that the future technology is clearly in favour of higher resolution cameras. When stores showcase 4K TV screens today, they load special footage that was captured with high-resolution cameras to showcase the intricate details that a 4K TV screen is capable of displaying. So high resolution cameras automatically imply higher amount of details in images and video footage.
Enhanced image stabilisation
Thanks to the enhanced 5-axis in-camera image stabiliser, whenever you want to move and shoot freely, you can rely on high-resolution performance and mobility, in order to concentrate on the subject without worrying about various types of camera-shake blur.
5-axis optical in-body
image stabilisation
New stabilisation unit/gyro sensors/algorithms effectively raise 5.5 stops*. Five types of camera shake—angular shake (pitch/yaw), X/Y shift and rotational shake (roll)—are compensated.
*CIPA standards. Pitch/yaw shake only. Planar T* FE 50 mm F1.4 ZA lens. Long exposure NR off.
Shoot and record 4K
movies with
oversampling
You can shoot and internally record 4K movies oversampled from 5K (15MP) equivalent data in Super 35 mm format. The results are startlingly beautiful in every detail.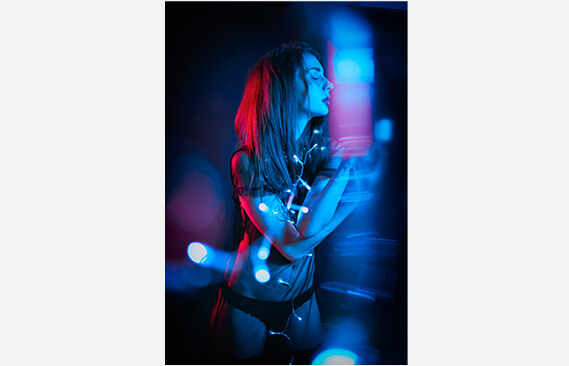 Extreme sensitivity, wide
dynamic range
With sensitivity settings that can extend up to ISO 409600 plus extra-wide dynamic range, Sony AS7 II can record images in spectacular and subtle detail, from shadows to highlights, under virtually any lighting conditions. The remarkable clarity and lack of noise in stills and movies that you shoot help to realise results that you've been aiming for.
Reducing noise in
high-resolution
images
Standard ISO range is extended to ISO 100-51200 (expandable to ISO 50-2048008 for stills), while Detail Reproduction and Area-specific Noise Reduction technologies maintain image details and cut noise. With highly effective performance in mid-to-high sensitivity ranges, you can shoot at high ISO with no concerns about noise and image deterioration.
More suitable for movies
Cameras which are designed to shoot video/movie, there is no mirror. Mirror system is simply not suitable for movie shooting. Mirrorless system is much closer to the structure of video camera,in other words, it is much more suitable for movie shooting
Supporting various
needs in HDR
production
S-Log for flexible expression of images in post-production and HLG for instantaneous HDR workflow-a combination that fulfils various HDR production requirements.
Supports S-Log3 and
Slow and Quick
Motion
S-Log3 improves gradation from shadows to mid-tones and widens the dynamic range up to 14 stops. Also, select a frame rate from 1 to 120/100fps for up to 60x quick motion and 5x slow motion.
Light weight &
Compact Body
Convenient companion
Alpha Cameras are smaller and lighter than comparable DSLRs
The saying in photography is that the best camera is the one you have with you. With its compact size and light weight, the alpha cameras compares favourably to heavier DSLRs.
Image Sensor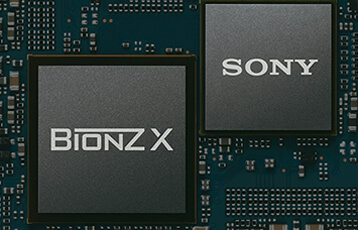 Processor
Tomorrow's lenses today, from Sony
New CMOS sensor for imaging excellence
High sensitivity, a back-illuminated configuration, gapless on-chip lens architecture and other Sony innovations deliver stunning images in a wide range of photographic situations. Standard ISO range is ISO 100-51200, expandable to ISO 50-20480017 with minimum noise.
*No. 1 image sensor manufacture for digital cameras and video recorder.
*Based on sony research - April 2017 to March 2018 (over 50% market share)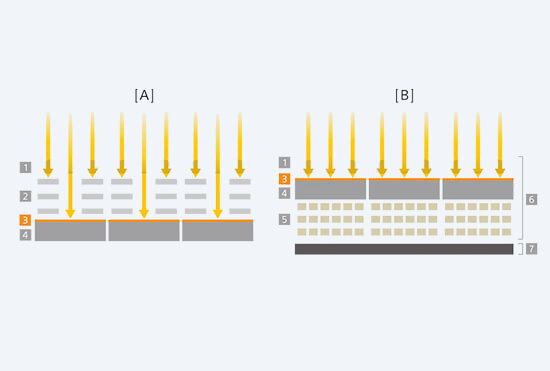 Technology for high-quality images
Use high-quality imaging that unites all available image sensor technologies - including back-illuminated structure and gapless on-chip lens architecture.
[A] Conventional front-illuminated structure
[B] Stacked back-illuminated structure with integral memory.
(1) Gapless OCL (2) Aluminium wiring layer (3) Light receiving surface (4) Photodiode substrate (5) Copper wiring layer (6) Pixel area (7) Stacked layer.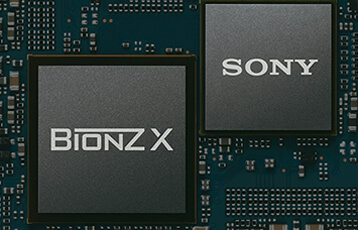 BIONZ X™ enhanced-speed image processor
Enhanced image processing combined with new front-end LSI reduces noise while improving detail depiction over a wide sensitivity range. Improved detail rendering enables lifelike texture reproduction.
High corner-to-corner resolution
Uncompressed 14-bit RAW format is supported, and this format or the current compressed RAW format can be selected as required. Uncompressed 14-bit RAW is a good choice in situations where the sensor's wide dynamic range and fine gradation reproduction will benefit the images being captured. (1) Image Sensor (2) Newly developed high-speed front-end LSI (3) 16-bit image processing
Tomorrow's lenses today, from Sony
Advances in camera performance and soaring creative ideals demand a new approach to lens technology. Lenses must evolve to remain ahead of the curve. With a clear vision of cameras of the future, Sony now redefines the lens. High resolution and appealing bokeh together at last, from the leader in imaging innovation.
Uncompressed 14-bit RAW
Uncompromised optical design achieves extremely high corner-to-corner resolution and contrast for landscape, architecture and other expansive subjects.
Gorgeous background bokeh
Shoot close at F2.8 to capture sharp subjects with dynamic, painterly backgrounds consisting of delightfully smooth bokeh.
A perfect balance of resolution and bokeh
An advanced optical design that includes two Sony XA (extreme aspherical) elements achieves outstanding resolution, low distortion and smooth, beautiful bokeh.
Light and compact for high mobility
Class-leading size and weight reductions make this 680-gram lens an ideal match for compact E-mount bodies, providing an eminently portable, easily manageable system.